12:00am EST - We're at the halfway point for Rust development this month and there is a mandatory server / client update hitting today. Also, our yearly charity event is this weekend!
Our update stream goes live at 1pm EST. Follow @Rustafied for news throughout the day.
---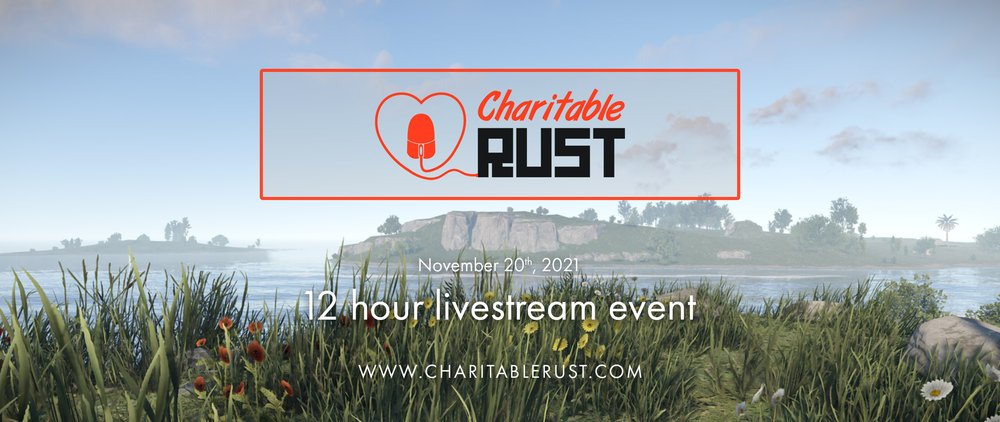 Charitable Rust starts Saturday @ 11am EST
Starting Saturday, November 20th at 11am EST, Charitable Rust will host your favorite streamers along with a ton of games and prizes. This year we're raising funds for Preemptive Love, helping those most negatively impacted in conflict zones around the world.
It all kicks off at 11am EST on the Rustafied Twitch and in our event servers (to be found on the official list). Join in on the action for 12 hours of carnival games, races, mazes, escape rooms, and much more! We'll be giving away prizes all day while we raise funds for this amazing cause.
---
Get the skins!
Starting Friday, we'll have four skins on the item store, the proceeds of which will go to the charitable cause, Preemptive Love. These skins are exclusive, cannot be sold or traded, so now is your only time to get them! A huge thank you to Facepunch as always for working with us on this event and a big shoutout to all the skin creators who contributed to this awesome cause.
There will also be several skins going live on the next round of Twitch drops, which kicks off when Charitable Rust starts. Head over to the Facepunch Twitch page to link your account!
---
Join on Sunday too!
I'm happy to announce Rustoria is hosting an event on Sunday to support this cause! It'll be a manhunt & base invaders event featuring RayC & Frost. The schedule is still up in the air but we'll post more info as it comes to light. Either way, plan on being around both Saturday and Sunday for an entertaining time supporting this great cause!
---
Mandatory update today
There is a mandatory client and server update hitting today at 2pm EST (7pm GMT) - it will not force a wipe. This update will introduce a permanent item store into the game, and based on the cryptic teaser video tweeted by Facepunch, a new skin: the Nomad suit.
---
Development news
There's been forward progress on a bunch of other development items this week. Here's a summary of what's been done. We'll be back next week with a full low-down of what's on the horizon.
More work on a new vehicle: snowmobiles

Arctic bases - new branch (maybe new monument?)

Improvements to first person spectate

More work on Hapis conversion

A bunch of new world models

Some new achievements

A new brick building skin in progress