12:00am EST - The spirit of Easter will soon be permeating every Rust server with the addition of Easter content. Going live in an update today, the Rust Easter event (first premiered last year) includes egg hunts, bunny costumes, and more!
This update is expected to hit at the regular time (2pm EST / 7pm BST). This event will not force a wipe and will run for one week. Our update stream will go live at 1pm EST to show off all the Easter goodness you can expect. Also, follow @Rustafied for news throughout the day.
---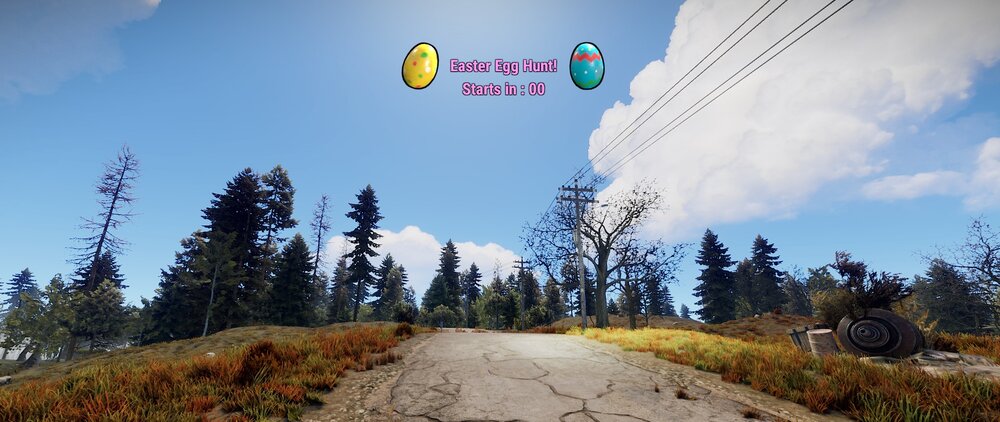 Easter Egg Hunt
It wouldn't be an Easter celebration without some egg hunts! As with last year, an Easter Egg hunt will begin every in-game day. For 3 minutes, every player on the server will be able to collect as many eggs as they can - with the top 3 winning special eggs as a reward. 
Making it to the podium isn't everything though, as any eggs players collect during the hunt can be upgraded for bigger and better eggs. So what do you do with all these eggs?
1st Place
3 Silver Eggs
2nd Place
1 Silver Egg
3rd Place
1 Bronze Egg
---
Collectible Eggs
Similar to the presents of the Xmas event in Rust, collectible eggs can be gathered, upgraded, and opened for prizes. Here is a rundown of the different types of eggs and what you'll find in each.
Bronze Egg
Stacks to
10
Sample Loot
Egg Basket
Bunny Ears
Stone (100 - 200)
Wood (200 - 400)
Metal frags (20 -50)
3 or 4 Chocolate Bars
Compound bow + 10 arrows
Upgrade to Silver
10
Silver Egg
Stacks to
10
Sample Loot
Bunny Onesie
Stone (2500)
Chainsaw + fuel
Jackhammer
Revolver + ammo
Double Barrel + buckshot
Pump shotgun + buckshot
Upgrade to Gold
10
Gold Egg
Stacks to
10
Sample Loot
5 Incendiary +  3 High Velocity Rockets
MP5A4 + ammo
LR-300 Assault Rifle
M39 Rifle + ammo
Multiple Grenade Launcher
M249 + ammo
Total Egg Cost
1000 Painted Eggs
---
Egg Basket
Want to be the top hare? Well make sure you have your bunny gear easily accessible for when egg hunts start. Arguably most important of said gear, the Egg Basket. When equipped, this basket allows you to pick up eggs instantaneously (instead of having to wait a couple seconds on each pickup, which is the case with no basket).
---
Bunny Ears and Onesie
Next on the list of bunny gear you'll want to have, Bunny Ears and Bunny Onesie. These two articles of clothing provide an extra advantage in the form of Egg Vision (which allows you to see the eggs on the ground from farther away).
---
Easter items
Along with community created Easter skins, some Facepunch created Easter items are also expected on the item store. Last year we saw two Rustige Eggs and an Easter Wreath hit the store. No confirmation yet on if there will be any new Easter Items this year or if they'll be the same. I'll update this once the item store is updated.
---
Other stuff
The team is working on a slew of other interesting projects and features. Below is a brief summary of what they are working on. I'll go into more details on this in the article next week.
New commits page (with filters, upvotes, and more)

Horses are no longer targeted by Turrets

New Facepunch logo when the game loads

New slots branch (more gambling in the future?)

Farming2 improvements including a desalinator, combiner, and a new water pump

More work on vehicles

A new HDRP screen posted in Discord by Garry, with the additional note that FPS is not yet where they want it to be on that branch

Monument bypass branch - Alistair is fixing all the ways people could bypass puzzles along with putting more loot behind key cards (such as Oil Rig hackable crates)