Update day has arrived and with it some substantial new content plus shifts to the game.
The update and forced wipe is expected to hit at normal time (2pm EST / 7pm BST). Tune in to our update stream starting at 1pm EST and follow @Rustafied for news throughout the day.
---

Fishing Villages
Obtaining boats has fundamentally shifted. Gone are the days of finding a Rowboat or RHIB just hanging out on the beach. Now, like with helicopters, you must visit a specific monument and purchase these boats for scrap. 
Enter: Fishing Villages. There are 3 variants of this monument - 2 small and 1 large - all of which seem to spawn on a default size map. As expected, you'll find them along the shoreline, easily accessible by land or water. It doesn't really matter which one you go to, all of them provide the same thing: the ability to purchase Small Motor Boats (aka Rowboats), RHIBs, and some other water related goodies.
Similar to Bandit Camp, these Villages are safe zones, providing a peaceful place to do your shopping. On approach, you'll be welcomed with some friendly reggae music to get you in the boating mood. Simply go up to the shop keep and initiate a conversation to purchase. Just like at Airwolf, a conversational prompt comes which you can follow to buy stuff. When you buy a Rowboat or RHIB, it'll spawn next to a nearby dock with a bit of fuel in it. Simply hop in and take off!

Boat Costs
Small Motor Boat
200 scrap
RHIB
400 scrap
Village A
View fullsize

View fullsize


View fullsize


View fullsize


View fullsize


View fullsize


View fullsize


View fullsize

Village B
View fullsize


View fullsize


View fullsize


View fullsize

Village C
View fullsize


View fullsize


View fullsize


View fullsize


View fullsize


View fullsize

Vendor Interactions
View fullsize


View fullsize


View fullsize


View fullsize


View fullsize


View fullsize

---

Kayak and Paddle added
Now, if you read above and are worried that you have to go to a monument to get around in the water, never fear, the Kayak is here! This two person, paddle propelled watercraft can be crafted and deployed in the water with ease. 
Getting around in the Kayak is not a simple gas and go situation. There is no gas, just Paddles with which you can paddle right or left. This means to go forward in a straight line, you must switch back and forth between right and left (A or LMB for left, D or RMB for right). And, with one paddle, you're not getting anywhere too quick.
Thankfully, this is a two-seater, so both people can paddle. It actually becomes a lot easier with two paddles because one person can simply hold left, and the other can simply hold right. This propels the Kayak forward in a straight line at a decent speed. When it comes to turning, it gets a little more complicated, but you can work that out with your co-pilot in voice.
View fullsize

View fullsize


View fullsize


View fullsize

Kayak

Cost
75 metal frags
600 wood
100 cloth
Craft time
30 seconds
Workbench
Level 1 required
Research cost
20 scrap
Fishing Village price
50 scrap
Paddle

Cost
15 metal frags
1 metal blade
200 wood
Craft time
30 seconds
Workbench
Level 1 required
Research cost
20 scrap
Fishing Village price
25 scrap
---

Storage Monitor

A new smart device is here to provide a quality of life improvement welcomed by all. The Storage Monitor does exactly what it's name implies: it lets you monitor your storage, remotely! Using the Rust+ app and this handy new device, you can see a live view of exactly what is in your Tool Cupboard or Large Wood Storage boxes. 
That means you no longer have to wonder if your base is decaying or if you've been raided - just check your app! It'll tell you exactly what you have where along with how much upkeep is left on your cupboard!
To hook one up, simply craft it, deploy on your selected storage (Cupboards and Large Wood at the moment), and add a source of power. Provided you've synced the app with that server, your Storage Monitor will show up under your list of devices with a full inventory of what's in the box.
Along with an input for power, the Storage Monitor has an output as well. This will send a burst of electricity when anything in the box changes.

Cost
3 hqm
1 tech trash
Craft time
30 seconds
Workbench
Level 1 required
Research cost
75 scrap
Outpost price
75 scrap
App update notice: To make sure this works smoothly, make sure you update your Rust+ app by clicking the cog on the top right, scrolling down, and selecting 'Check for Updates'.
---

Workbench changes
More flexibility with Workbenches this update as they can now be picked up with a hammer. Watch out before you start picking and plopping your benches all willy-nilly, they lose half their health each time they are picked up. Thankfully, they can also be repaired now. There are some new health values for level 2 and 3 too:

Level 1
Old
500
New
500

Level 2
Old
750
New
500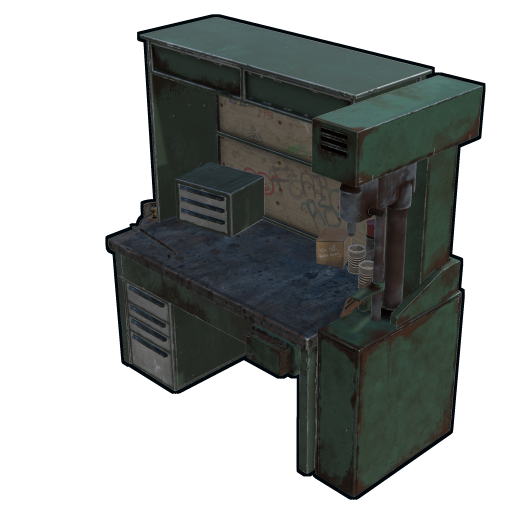 Level 3
Old
1000
New
750
---

Moar electrical devices
Search Lights and Reactive Targets are the latest items to get the gift of electricity this update. Both now accept power, allowing a more automated approach to each.
Search Lights require 10 power, accessed via IO ports in the middle under the light. It features a power in and passthrough port for linking multiple devices.
Reactive Targets only require 1 power via the port behind the target, next to the tire. They feature power in, power out, lower, and reset ports.
---

Vehicle shifts
Some interesting shifts to vehicles this month. Most notable, dynamic vehicle glass has been added to provide a bit of projectile protection through the windshield. It'll successfully block damage for a short period until it breaks. Also, the dashboard indicator lights have been fixed and multi-engine vehicles are now a bit slower because it was so hard to control them on Rust's landscape.
---
Other stuff
Tea now hydrates you when you drink it

Fixed some gaps in certain conditional roof instances

Fixed fuel storage not being accessible on RHIB after collider update

If a player is text muted also mute their voice

Fixed batteries displaying the wrong passthrough on the wire tool UI

Fixed unable place deployables a floor below SAM site

Fixed wounded and sleeping players blocking projectiles (rockets etc) as if they were standing up.

Fixes to Wire Tool measurement values

client.connect will now fill in the connection screen properly and add the server to your history
---

Charitable Rust Skin Contest!
Are you a skin creator? Would you like to play a direct role in generating tens of thousands of dollars for charity? Well Charitable Rust is just around the corner (official announcement soon) and we're prepping for our biggest year yet!
Each year Facepunch generously agrees to add several exclusive skins the week of Charitable Rust, the proceeds of which entirely go towards that years cause. All proceeds of this year will go to RAD, supporting mental health for everyone. Over the past 5 years, we've raised hundreds of thousands of dollars for various charities, the overwhelming majority of which was directly from skin sales.
If you're a creator and you'd like to have your skin live on in Rust history with the likes of the glowing box, and that other glowing box we did, and shit, we'll even throw in a year of Platinum VIP on Rustafied servers, then enter in the Charitable Rust Skin Competition!
Rules here.