12:00am EST - As development trucks along for the month of October, Facepunch prepares for this years Halloween Rust event.
Our update preview stream goes live at 2pm EST. Follow @Rustafied for news throughout the day.
---
Halloween event overview
Similar to other holiday events in Rust, the 2020 Halloween Event will go live towards the end of the month and run till the next first Thursday update. It features a variety of seasonal items, loot, and events in the game. Scheduled to go live with a mandatory patch on Monday, October 26th at 2pm EST, it'll be active on servers till the next forced wipe on November 5th. 
Long and short for this year: Mummies / Scarecrows roaming about, Trick or Treat events with candy and loot bag prizes, Skull trophies and spikes, spooky skins, and more! Given we won't know the exact specifics of all the store items till they go live, I'll be sure to update this post on Monday once the event has started.
---
Mummies and Scarecrows, oh my!
The roaming, murdering NPC's from Halloweens gone by are back! In previous years we've had either Mummies or Scarecrows, wandering the map, looking for a Newman to run after and throw beancans at. This year is a double whammy, as both Scarecrows and Mummies wander the map. They'll run after you with a Chainsaw or Sickle and try to kill you if they see you, so watch out!
Details
HP
200
How many on map?
~ 40 on a default map
Weapons used
Chainsaw
Sickle
Beancans
Machetes
Example loot dropped
Fuse
Guitar
Metal Blades (2x)
Flashing Light
Pitchfork
Corn
Sickle
Rope
SAR Body
F1 Grenades (3x)
---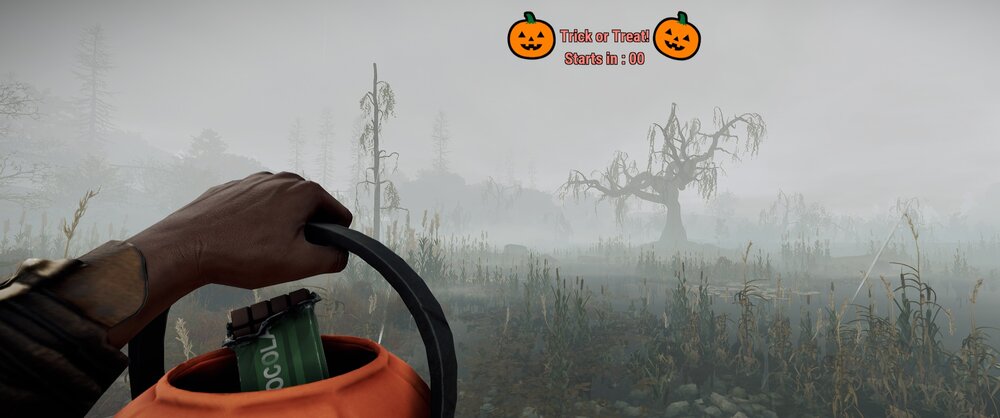 Trick or Treat event
Similar to the Egg hunt from the Easter event earlier this year, Trick or Treating is back for Halloween 2020! About once every in game day you'll see a countdown and notice pops up saying "Trick or Treat Starts in: 14 seconds". 
View fullsize
View fullsize
View fullsize
Once it starts, Halloween Candy will spawn around the map. Race to pick up as much as you can within 3 minutes. 
Now what do you do with all this candy? Well, like any normal trick-or-treater, you can just shove it all in your gullet till your stomach can't take any more. You can also upgrade it to higher tiers of candy (loot). See below for more details on each tier.
Oh, and the top three people to get the most candy, get prizes…
Prizes
1st
3 Medium Loot Bags
2nd
1 Medium Loot Bag
3rd
1 Small Loot Bag
---
Halloween Loot Upgrades
Lowest common denominator in the treat loot ladder, Halloween Candy - which stacks to 10 - can be eaten (healing +1, calories +25) or upgraded to a Small Loot Bag (10 to upgrade). 
From there, you can continue to upgrade. Here's a low down of each loot bag type and some loot examples you can find:
Small Loot Bag
Stacks to
10
Sample Loot
4 Chocolate Bars
Pumpkin bucket
Compound bow +10 arrows ~48 frags
Hunting bow + 5 arrows Scarecrow Wrap
Upgrade to Medium
10
Medium Loot Bag
Stacks to
10
Sample Loot
2.5k stones
Revolver + 20 ammo
Double Barrel + 5 buck shot Chainsaw + 22 low grade Spider Webs
Graveyard fence
Upgrade to Large
10
Large Loot Bag
Stacks to
10
Sample Loot
MP5A4 + 30 ammo
M249 + 50 ammo
LR300 + 20 ammo
M39 + 50 ammo
5 IC + 3 HV Rockets
Grenade Launcher
UpgradeN/A
---
Pumpkin Bucket
This helpful bucket found in Small Loot Bags allows you to pick up candy quicker during the Trick or Treat event using left click. You can also use right click to throw candy at people - it does about 20hp damage.
---
Scarecrow Wrap
The Scarecrow Wrap - found in Small Loot Bags - will give you extra candy vision when applied (basically allows you to see the candy from farther away).
---
Store items
Some Halloween exclusive content is expected on the item store once this event goes live. I'll update this part once it's been added.
---
Skull Trophies
One of the likely candidates for the item store this year is the newly added Skull Trophy. Seriously, who hasn't wanted to proudly display the skull of your fallen foe before? Well, now you can! Simply plop a trophy down, open it up, and place in any human skull you like. The plaque on the front of the trophy will automatically update with the player name of the skull.
More details on this item once the update is live.

---
Skull Spikes
Looking for more than one skull on a stick? You're in luck! The Skull Spikes can be placed down and feature 3 gnarly skulls spread throughout. Like the Skull Trophy, this is also likely to be available for purchase on the item store once the event is live - stay tuned for more details.
---
Pickup-able resources
You'll notice a change to the resources you can pick up off the ground with this update. Wood, stone, and ore pickups are now spooky looking! You can even pick up bones!
View fullsize
View fullsize
View fullsize
---
Other development news
We'll be back next Thursday with a full rundown of what you can expect in the November update.  In the meantime, here are some highlights of what's been going on in development:
A potential new type of vehicle, the Work Cart, is being worked on

Improvements to the new weather including incoming rainbows

Stables monuments is likely to go live November 5th

Techtree being worked on

Elevator uses 5 power all the time instead of changing consumption based on if it's being used or not