Farming is the name of the game this month. With a slew of changes and new additions to agriculture in Rust, players have more incentive than ever to get their thumbs green!
The update is expected to hit at normal time, 2pm EST. Our update stream goes live at 1pm EST to show off everything new this month. Follow @Rustafied for news throughout the day.
---
Give back!
Before we get into it, let's touch on something that is impacting us all right now. The Coronavirus is sweeping the planet, threatening the lives of millions of people. Yesterday, hJune and Rustoria put on a charity event to raise funds for Direct Relief - a tremendous organization which helps victims around the world with medical aid and supplies.
As of writing this the Tiltify campaign has beaten its initial goal, raising over $10,000 for this great cause. I'm happy to say, on behalf of the entire Rustafied team and our beloved VIP's, we donated $2,000.
It's not too late to make a change though! The campaign is still open. Head over and give what you can. 
Donate now
---
Farming overview
Planting as you know it has changed. Gone are the days where you can haphazardly slop seeds into the ground anywhere you please and expect them to grow to a healthy, mature state. Although you can still plant seeds in the ground, the results will be mixed at best.
That's where planters come in. Not only are they more important than ever before, they have a couple friends in the mix - including poop - to help every Newman gain their green thumb. Below is a summary of what's new, but check out my (updated) post from last week for all the nitty gritty details on these farming changes.  
Details on Farming2
Composting
Players are now able to turn their random organic material - including the hottest new item this month, Horse Dung - into fertilizer using the new item: the Composter. 

Fertilizer
Aiding in the ground quality for plants, Fertilizer is placed in Planter Boxes (just like a storage box). The basic rule of thumb is 1 Fertilizer for each seed in the planter. 

Potatoes
A new crop has arrived: Potatoes. Functioning just like other plants, Potatoes can be grown and provide mainly caloric intake.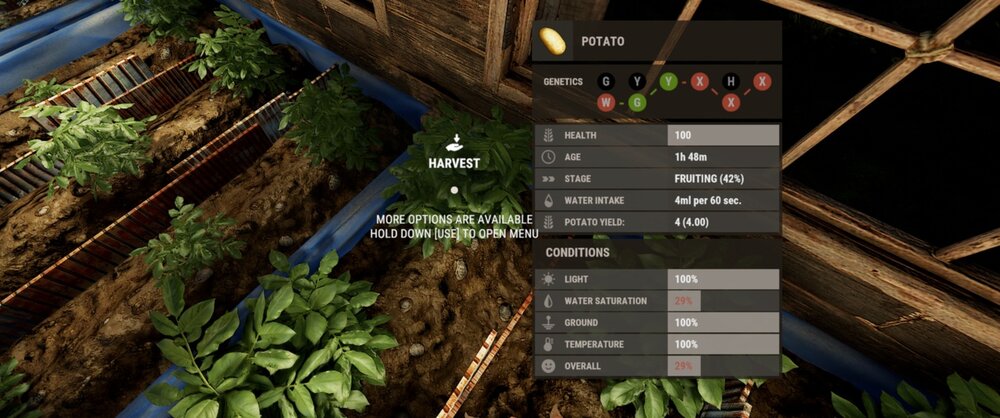 Plant info
The information UI for plants has been completely redone, now showing much more important information than before.

Genetics / Cloning
Each plant now has genetic traits which can be positive or negative. Players can use cloning techniques to breed out bad genes.

Sprinklers
Along with the increased importance of plants, the devs added a set of new tools to help players keep these new crops watered. Working much like the electricity system, sprinklers pipe water from storage to sprinkler heads to keep plants hydrated.
Once again, for more information on the Sprinklers and everything else new with farming, check out my post from last week.
---
New vendors
A couple new vendors have been added to Outpost and Bandit Camp. As of now, their inventory still seems to be a work in progress. More on this as it's updated.
---
Landmine changes
Landmines got a slight buff this month as the bounds have been increased. Also, they prevent building in a larger radius and can be triggered by horses.
---
Other stuff
Fixed death marker not updating position

Placement issues fixed for the Spike Trap

Rugs cost 25 cloth instead of 100

Default the history server list to sort by last played (descending)

Keylocks stackable (10)

Renamed airfield CCTV to 'AIRFIELDHELIPAD'

Vehicle and HDRP progress (of course)

New triangle building blocks and spiral stairs - coming with the vehicles now

New alarm system in the works? (comp branch)

Cinematic tools in the works